Hey all. Happy Spring Break to many Michigan teachers! Today, I went back to work at the movie theater I worked at for ten years while in high school, college, and my first two years of teaching. Being laid off right now, I am forced to work again this summer. It won't make me millions, but I will make some cash and go to the movies for free! The added benefits of as much popcorn, pop, and candy as I want is both a positive and negative.
Anywho, that's the reason that I have a lunch to pack on a Sunday. And that allows me to join up in the lunch box linky party thrown by Tara from
4th Grade Frolics
. As usual, I'm late to the party, but better late then never.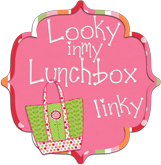 Here's my lunch for today. It's very similar to what I would take for lunch when teaching!
Sorry it is kind of blurry as well as boring! The bag is cute though! It is from Thirty-One, like so many other lunch boxes and totes that I have already seen in this linky. As far as food, I had Quaker Oatmeal Apples & Cinnamon, a strawberry banana yogurt, a Nature Valley Granola Thin, and a green apple. I don't enjoy red apples. Yuck! It seems like a lot of food, but it keeps me from snacking on popcorn and candy. It is so addicting once you start, so I am trying not to even start. And as far as pop, I let myself have 8 ounces per week. Crazy, I know, but I am trying to live a healthier lifestyle. So today was a successful day as far as not eating movie theater junk, but we will see what happens when I begin to work more!
And that is it! If you haven't linked up yet, it's okay to go link up now! You can join me, late to the party! Who doesn't love peeking at what others eat? Happy Packing!