There are so many FABULOUS giveaways going on out in blogland right now. And though I am hesitant to share because I would love to win them all myself, I know you all would probably love the chance as well! So here are just a few that are floating around!
Jenn Bates @ Finally in First is having a
Giveaway A Day
for five days to count down to her spring break. She is giving away some awesome products, including a HearALL Assessment Recorder from Learning Resources! Heidi from
Swamp Frog First Graders
is also giving away a Learning Resources product, the Easy Speak USB Recorder. Teri over at
A Cupcake for the Teacher
is also having a giveaway! She has just hit 1000 followers in four months! To celebrate, she is giving away 10 prizes to ten different winners. And you can have up to 10 entries! And I just have to include her little picture because it is adorable!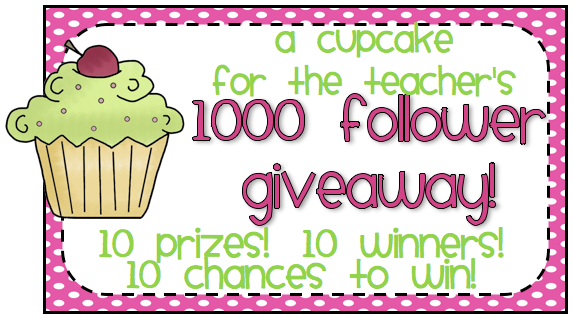 There are so many great things you could do with all of these products! Too fabulous! So if you haven't already entered these three giveaways, go do so now! You could win something fabulous. I would say I am cheering for you, however, I am cheering for myself! I have never won a giveaway and would probably faint if I did!